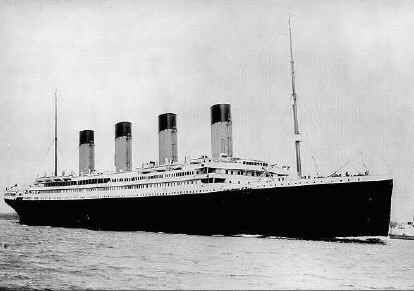 Launched: 31st May 1911
Builders: Harland and Wolff, Belfast
Port of Registry: Liverpool
Passengers Lost: 818 (62%)
Crew Lost: 684 (77%)
Total Lost: 1,502 (68%)
---
Joseph Bruce Ismay (1862-1937)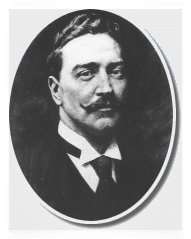 Managing Director of the White Star Line.
Vilified as a coward who left the Titanic in one of the last lifeboats, while his customers and employees stoically faced their doom on the ship, J. Bruce Ismay was born at Enfield House, Endbutt Lane, Crosby on 12th December 1862.
He was brought up at 13 Beach Lawn, Waterloo between 1865 and 1885. This house is clearly visible from the Irish Sea at the mouth of the River Mersey, and all White Star vessels would offer a salute as they passed the Ismay residence.
In 1885 his father and founder of the White Star Line, Thomas Henry Ismay, built a mansion "Dawpool" at Thurstaston on the Wirral, and the family moved from Crosby. Relatives of J. Bruce Ismay's mother, Margaret Bruce, were still living in Crosby as recently as the 1960s.
The Head Office of the White Star Line was on the corner of James Street and the Strand, Liverpool, and it contained J. Bruce Ismay's personal office. The building, of similar design to London's Scotland Yard, is still there today........
J. Bruce Ismay succeeded his father in 1899 as chief executive of the White Star Line. An intensely private man, his natural shyness was often mistaken for arrogance. His generosity is well-recorded, however. Often Ismay would walk the 4 miles from his mansion, "Sandheys" at Mossley Hill, Liverpool to his office in The Strand. On one occasion he noticed a group of children playing on a roof. Arriving at his office, he was informed that the building was an orphanage. Ismay immediately ordered a cheque for £500(approx. £25,000 today) to be sent......
In 1907, at a party held at the home of Lord Pirrie, director of the shipbuilders Harland and Wolff, Ismay sketched out on a napkin his plans for the largest liners the world had ever seen - Olympic, Gigantic and Titanic........
He was travelling, technically as a passenger, in his private suite on the second to be built - Titanic - when she struck an iceberg on her maiden voyage at 11.40 p.m. on Sunday 14th April 1912.
Quickly informed by Captain Smith and designer Thomas Andrews that the Titanic was doomed, Ismay did his best in encouraging reluctant women to enter the all too few lifeboats, and urged them lowered - to the extent that he was told "to get the hell out of the way" by the fiery Welsh 5th Officer Lowe. Several women testified that Ismay urged them to enter the boats, and at least one later swore she owed her life to him.
The circumstances of Ismay's leaving the Titanic would be cause for endless speculation, but there is no evidence to contradict his testimony that he entered the partially-empty collapsible 'C' on the spur of the moment as it was being lowered, after first checking there were no women or children nearby. He was by no means the only man to enter a lifeboat........
Ismay was a broken man by the time the lifeboat was rescued by the Carpathia, and spent the entire journey to New York in the doctor's cabin - "under opiates" according to Captain Rostron of the Carpathia.
Inflamed by his silence, the American press needed someone to blame for the disaster, and Ismay provided a convenient scapegoat - a position maintained in the recent film Titanic. Wounded by these hysterical allegations and imputations on his character, Ismay cabled a long statement to the London Times. On his return to Liverpool he was met by cheering crowds at Princes Landing stage.
Although J. Bruce Ismay was exonerated of any wrongdoing by both the American and British Enquiries, he never lived it down. Before the Titanic disaster he had already announced his impending retirement as President of International Mercantile Marine, the American conglomerate which had bought White Star Line in 1902. Now he was denied by them the option of remaining chairman of WSL, the company his father had founded in Liverpool.
Continuing the charitable works begun by his parents, J. Bruce Ismay donated £10,000(approx. £500,000 today) to found the Mercantile Marine Widows Fund in 1912. Deeply moved by the huge death toll of ordinary sailors during the First World War, he followed this up in 1919 with a donation of £25,000 (approx. £1.25 million today), founding the National Mercantile Marine Fund to make provision for the widows and children of merchant sailors, giving preference to dependants of sailors born in Liverpool.
Largely at the insistence of his American wife, J. Bruce Ismay sold "Sandheys" in Mossley Hill in 1920 and he lived the rest of his life at 15 Hill Street, Mayfair, London. Every week he would travel by train up to Liverpool on Sunday evening, returning Wednesday, to conduct his remaining business and charitable interests in the city. He stayed at the North Western Hotel on Lime Street, and enjoyed attending concerts in nearby St. George's Hall. Craving anonymity as usual, he would purchase two tickets - one for himself and one for his hat and coat........
Towards the end of his life he could be found at the back of the crowd, watching parades go by in London, or feeding the pigeons in the parks near his home. Often he would chat with strangers down on their luck, proffering advice and money - they never guessing who he was. Due to circulatory illness, Ismay suffered the amputation of his right leg and died of a stroke on 17th October 1937, aged 74. In Liverpool, flags on civic buildings were flown at half-mast. J. Bruce Ismay's estate amounted to almost £700,000.
See Phil Hind's superb Encyclopedia Titanica for more information on Bruce Ismay.
Literally in the same street as Ismay, some years later lived........
---
Captain of the Titanic
The unfortunate captain of the ill-fated Titanic was born in Hanley, Staffordshire on 27th January 1850. Edward Smith ran away to sea at 16, and spent the next 40 years based on Merseyside, living variously at the Seamen's Home; Hanover St; Berkeley St, Toxteth; and then in the suburb of Tuebrook. Shortly after his marriage in 1887 to Sarah Eleanor Pennington of Winwick, near Warrington, the couple moved to 39 Cambridge Rd, Waterloo.
Captain Smith is recorded in Kelly's street directory for 1891 as living at 4 Marine Crescent, Waterloo. He must have liked this road as he moved to live at number 17 Marine Crescent, Waterloo between 1898 and 1907. It was here in May 1903 that Captain Smith made out his will, leaving everything to his wife, or in the event of her re-marriage, to their only child Helen Melville Smith(1898-1973). By coincidence, this house is only yards from the boyhood home of his employer Ismay. During his time in Crosby, Captain Smith's telephone number was WATERLOO 271.
The White Star Line moved their transatlantic service from Liverpool to Southampton in 1907, because it was more convenient for the wealthy London passengers, and it was only a short run across to Cherbourg for the continental trade. Captain Smith, like many of White Star's Liverpudlian employees, chose to move with his family to Southampton.
Captain Smith took the Adriatic to New York on her maiden voyage in 1907, and he gave an interview to the New York Times in which he said:
"I cannot imagine any condition which would cause a ship to founder. I cannot conceive of any vital disaster happening to this vessel. Modern shipbuilding has gone beyond that . . ."
Five years later his name would be synonymous with the greatest of maritime disasters. Captain Smith was the most highly paid sea captain in the world at the time on £1,250 a year, which equates to at least £60,000 today. However, his safety record was not exactly inspiring. Perhaps he was no worse than anyone else and it was just a sign of the times. This can be judged by the fact, that as part of his contract, he could claim a large salary bonus for NOT having a collision, instead of having to take a pay cut if he did have one!
At any rate, he had grounded his ships on several occasions, and suffered a variety of mishaps, the most serious being the collision in 1911 between the Titanic's sister ship, Olympic and the cruiser Hawke. Even taking the Titanic out of Southampton at the start of her disastrous maiden voyage, the ship had narrowly avoided colliding with a smaller liner, the New York. But Captain Smith always seemed to be exonerated; either he was not on the bridge at the time, or it was the pilot's fault, or the other vessel was to blame. Smith was a laid-back kind of captain, who didn't let these little hiccups prevent him from being extremely popular with his passengers, who dubbed him first "The Storm King" and later "The Millionaire's Captain."
After receiving numerous ice messages, including one that pinpointed bergs in precisely the position that Titanic ultimately came to grief, Smith did not slow down, but did make an adjustment to the course that took him somewhat south of the usual track. But it was not nearly enough. Later, the British Enquiry exonerated him, since to maintain speed had been the accepted custom, but stated that failure to slow down in future would be treated as negligence. Captain Smith was definitely in error, though, in not ordering a lifeboat drill as the Titanic steamed out across the Atlantic. This was in direct contravention of White Star policy, although not against the law. It undoubtedly contributed to the loss of life, once the vessel struck the iceberg.
Captain Edward John Smith's estate came to £3,186 4s 6d, a considerable sum in 1912, but given his age and salary, perhaps less than might be expected.
See Phil Hind's superb Encyclopedia Titanica for more information on Captain Smith.
---
Chief Engineer of the Titanic
The unsung hero of the Titanic was born in Maryport, Cumbria in May 1861. At time of the disaster he lived with his wife and family at 1 Belvidere Rd, Crosby. He also held the rank of Lieutenant-Commander in the RNR and had been awarded the Royal Decoration.
There is a memorial plaque at St. Faith's Church, Waterloo to Joseph Bell and his engineers, all of whom stayed at their posts to the end and were lost. Without their self-sacrifice, the Titanic would have lost electrical power much earlier, and without wireless, pumps and lights the death toll would have undoubtedly been even higher. He died at his post with all his fellow engineers, trying to correct the mistakes of others. He knew enough about the damage to the Titanic to know there was no chance for the ship, or for the men who chose to remain in the engine room. But he stayed there, keeping the pumps going and lights burning until 2 minutes before she sank. Thomas Andrews, the ship's designer, thought the Titanic would last for an hour. Joseph Bell and his men kept her alive for 2 hours 40 minutes.
It's interesting to consider what might have happened if the engineers had acted differently. The water would have overwhelmed the boilers and engine compartment much earlier, causing explosions which would have sent the ship to the bottom sooner. The power would have gone, plunging the ship into darkness. No distress call could have been sent, and panic would have broken out amongst the passengers. It's unlikely many boats would have been launched, and no rescue ships would have raced to the Titanic's position. The Titanic would have simply vanished, just like the White Star liner Naronic did in 1893. No survivors. No-one knew what happened, but an iceberg was suspected…….
Chief Bell was quite comfortably well-off by 1912 standards, and his estate came to £6,457 2s 10d. He left a widow, Maud, and four children; the eldest boy, 16 years old, had recently begun an apprenticeship at Harland & Wolff. He had accompanied his father aboard Titanic on her sea trials, sailing on the ship from Belfast to Southampton.
See the poignant Engineers Site by Denis Griffiths of Liverpool John Moores University for more details..
---
Charles Herbert Lightoller (1874-1952)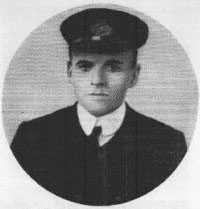 Second Officer of the Titanic.
The senior surviving officer of the Titanic was born in Chorley on March 30th 1874. Between 1904 and 1908 he lived at 8 Cambridge Avenue, Crosby.
Shipwrecked no less than four times in his career, Lightoller last saw action at Dunkirk in 1940, when, aged 66, he plucked 130 men from the beaches and carried them safely back to England in his yacht, the Sundowner. When one of the rescued men was told that Lightoller had been on the Titanic, he became agitated and was keen to jump and take his chances in the English Channel, until a fellow soldier said. "Hold on, mate - if he can survive the Titanic, he can survive anything - including this."
The Titanic disaster would haunt Lightoller for the rest of his life:
"What I remember about that night- what I will remember as long as I live- is the people crying out to each other as the stern began to plunge down. I heard people crying, 'I love you.' "

Portrayed as an upper-class twit in the recent film Titanic, he was far more accurately depicted in the 1958 film A Night to Remember, played by the actor Kenneth More.
See Phil Hind's superb Encyclopedia Titanica for more details of Lightoller's amazing life.
---
Senior Assistant Second Engineer of the Titanic.
The eldest son of Thomas and Mary Wilson of 16 Norma Road, Waterloo; educated at Merchant Taylors` Grammar School, Crosby and subsequently served his apprenticeship with Messrs. J.H. Wilson & Co. of Sandhills, Liverpool. Served for 4.5 years with Leyland Line as fourth engineer and third engineer before moving to White Star in September 1907 as assistant second engineer aboard the Teutonic. He also held the rank of sub-lieutenant in the RNR. Bertie Wilson served as assistant third engineer aboard Olympic before transferring to Titanic. After the collision, Wilson worked in Boiler Room No.5 to get the pumps working. At one point the lights went out. Wilson and his colleagues stayed at their posts, working in the darkness. He left a widow but no children.
---
Chief Steward of the Titanic.
Andrew Latimer was born on 31st January 1857 at Lancaster. At time of the disaster he lived with his wife and family at 4 Glenwyllin Road, Waterloo.
Aged 55, he had originally worked for the Dominion Line. When the White Star Line took them over, he became chief steward of the Teutonic, Cedric, Adriatic, Olympic and finally the Titanic.
Latimer first married Emily Wolstenholme in 1880 and had 3 children. His second marriage was to Janet (Jennie) Hamilton in 1902, and they had 4 surviving children.
Shortly before the Titanic's final plunge on April 15th 1912, Assistant Second Steward Joseph Wheat encountered his boss on the boat deck. He urged Latimer to wear his lifebelt under his greatcoat, because it would make swimming easier. Whether the Chief Steward took the advice is not recorded. In any event, with the water temperature below zero that night, the advice was academic........
Chief Steward Latimer died in the sinking and his body was never recovered. His estate came to £3,082 9s 3d.
See Phil Hind's superb Encyclopedia Titanica for more info on Chief Steward Latimer.
---
John Reginald Rice (1886-1912)
Assistant Purser of the Titanic.
Purser's Clerk John Rice was born on 16th June 1886 and had previously served aboard the Celtic. On the Titanic his wages were £5 per month. John Rice lived with his parents at 37 Kimberley Drive, Crosby between 1910 and 1912, when he was lost on the Titanic. His was one of the many bodies recovered from the North Atlantic in the weeks after the disaster........
N0. 64. - MALE. - ESTIMATED AGE, 34. - HAIR, DARK.
CLOTHING - Officers' uniform; double breasted uniform.
EFFECTS - Pocket book; purse with £1. 0s. 2d.; cigarette case; scissors; silver watch with photo; silver match case and chain; pencil; keys; knife; stud; gold ring engraved "Elsie."
ASSISTANT PURSER. NAME - J. R. RICE "Leafield," 37 Kimberley Drive. Great Crosby, Liverpool.
John Rice's father never recovered from the death of his son, and he himself passed away at the beginning of 1913.

John Rice's grave at Fairview cemetery, Halifax, Nova Scotia
---