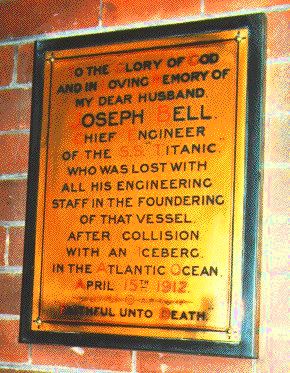 The Chief Engineer's Memorial Tablet
One memorial which has not been mentioned in all of the books written about the Titanic is the brass tablet dedicated to Joseph Bell, the Chief Engineer, in Saint Faith`s Church, Waterloo, Liverpool.
This tablet was provided by his wife, Maud, and was unveiled by the then Bishop of Liverpool at a special service held on 6 January 1913. Joseph Bell and his wife worshipped regularly at Saint Faith`s; the youngest of their four children, Ralph Douglas, having been baptised there on 29 March 1908. Saint Faith`s was a new church having been opened during 1900 and as the Bell family lived close by at 1 Belvidere Road, Crosby, it became the local parish church.
For his address the Bishop of Liverpool chose the text from Revelations II. 10, "Be thou faithful unto death, and I will give thee a crown of life". Joseph Bell and his engineers were faithful unto death, they did their duty to the end.
Acknowledgement to Dr. Denis Griffiths for this page.